Previous: Four-layered Cupcake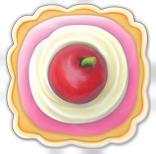 Five-layered Cupcake is a blocker in Candy Crush Soda Saga, formally appearing in Level 41. It is currently the most layered cupcake blocker, and takes 5 hits to destroy. This blocker can be incredibly difficult to clear due to the number of hits needed.
Properties
Edit
Five-layered cupcakes are single-tile stationary blockers that requires five hits to for clear. The ways to destroy them are to make a match adjacent to the blocker, special candy effects that touches it five times. These blockers have four degrades and can hide ice underneath it.
Appearance
Edit
The five-layered cupcake looks like a cream mousse sponge cake with a cherry in a white wrapper.