Jam is an element in jam levels. When you see the jam on the board in a jam level, you are required to spread it over the board. It is not the blocker. You can pass the level easier if you understand some unique properties of jam.
Properties
Edit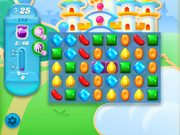 Appearance
Edit
| First Level | Last Level | # |
| --- | --- | --- |
| 256 | 1270 | 241 |
Ad blocker interference detected!
Wikia is a free-to-use site that makes money from advertising. We have a modified experience for viewers using ad blockers

Wikia is not accessible if you've made further modifications. Remove the custom ad blocker rule(s) and the page will load as expected.