Next blocker: Two-layered Cupcake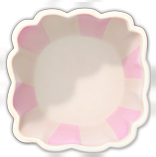 One-layered Cupcake is a blocker in Candy Crush Soda Saga. This blocker is fairly easy to destroy, and would usually hold layers in it. These are introduced in level 10, but can first be seen after leveling a two-layered cupcakes in level 8.
Properties
Edit
One-layered cupcakes are stationary blockers that occupies only one space. These blockers can be destroyed by an adjacent match or a special candies' effects that touches it. Ice can hide under the cupcake.
Appearance
Edit
The one-layered cupcake looks like a white wrapper in a near-circle shape that has been creased 13 times.
This element's title has not been fully introduced yet.