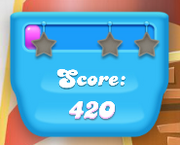 Star is one of the fundamental elements in Candy Crush Soda Saga. They are present on all levels. For each level, stars can be earned by reaching certain score requirements - by reaching certain amount of points. A player can earn up to 3 stars per level. There are currently a total of 4845 stars that can be earned from 1615 levels: 15 stars for episode 1, 30 stars for episode 2, 45 stars from episode 3 to episode 36 and episode 63, and 60 for the rest of the episode. 
Ad blocker interference detected!
Wikia is a free-to-use site that makes money from advertising. We have a modified experience for viewers using ad blockers

Wikia is not accessible if you've made further modifications. Remove the custom ad blocker rule(s) and the page will load as expected.